Serbian President Vučić Meets with Zijin Chairman Chen Jinghe
Categories:

New

Author:

Origin:

Time of issue:

2023-03-02

Views:

0
(Summary description)
Serbian President Vučić Meets with Zijin Chairman Chen Jinghe
(Summary description)
Categories:

New

Author:

Origin:

Time of issue:

2023-03-02

Views:

0
On February 16, Serbian President Aleksandar Vučić, Prime Minister Ana Brnabic, and President of the National Council for Coordination of Cooperation with China and Russia, Tomislav Nikolic, met with Chen Jinghe, Chairman of the Board of Directors of Zijin Mining and his team in Belgrade.
Chen Jinghe expressed his gratitude to the Serbian government for its strong support for the development of Zijin Mining. He provided an overview of Zijin Mining's globally-oriented operation, portfolio, and mine development worldwide. He also shared details on the production, operation, and ESG endeavor of Zijin's producing projects in Serbia and its future investment and construction plan.
President Vučić welcomed the visit of Chen Jinghe and his team. He said that Zijin Mining was a strategic partner that the Serbian government fully trusted, and the construction speed and efficient operation and management model of Zijin's Serbian projects were impressive. Furthermore, he recognized how Zijin's investment in Serbia had boosted the country's economic development, especially in the eastern region.
He expected Zijin's projects in Serbia to expand production capacity and accelerate construction. Meanwhile, he hoped that Zijin would continue to increase its investment in low-carbon development and build the Čukaru Peki Copper-Gold Mine into one of Serbia's leaders in environmental protection. Finally, he noted that the Serbian government would continue fully supporting Zijin's development.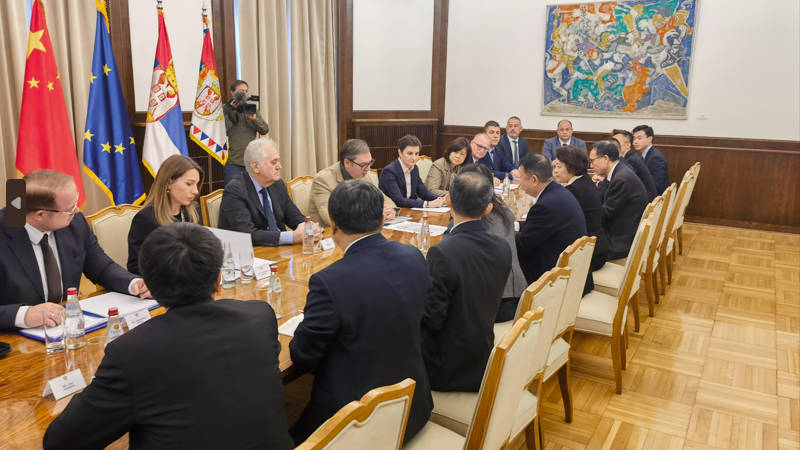 Serbian President Vučić met with Chen Bo, the Chinese Ambassador to Serbia, and Chairman Chen Jinghe of Zijin Mining.
Chen Jinghe said that Zijin was a champion of shared development, win-win cooperation, and a consistent doer of the word. According to Chairman Chen, Zijin would ensure full compliance in its operation and build its ESG system to high standards. It would conserve Bor's lucid water and blue sky and find new opportunities for mining cooperation in Serbia.
The Chairman pointed out that Zijin was committed to building Bor into the city of the future in eastern Serbia and making greater contributions to the economic and social development of the country.
At the meeting, the two sides discussed accelerating mineral exploration, expanding production capacity, increasing investment, and protecting the ecology.
Chen Bo, Chinese Ambassador to Serbia, Shen Shaoyang, and James Wang, Vice Presidents of Zijin Mining, attended the meeting.
Translator: Wei Yalin Reviser: Lin Xindi Editor-in-Chief: Wang Jie
Scan the QR code to read on your phone
Xiamen Zijin Technology of Mining & Metallurgy Ltd.
(Zijin Mining and Metallurgy Design and Research Institute)
Copyright:Zijin Mining and Metallurgy Research lnstitute 闽ICP备09027214号-2 Technical support by 300.cn